Kevin Richard Dietrich (Slim)
EARLY LIFE: 1994-2010
Kevin Richard Dietrich was born on December 3, 1994 at
Yale New Haven Hospital
. To parents David S. Dietrich (father) and Sandy Louis Smith (mother), his mother would take care of him throughout his childhood, he never knew his father. His parents were involved with drugs including crack cocaine and he was exposed to that when he was young. As a kid Kevin was moved around from
foster home
to foster home and was almost never in one place. He grew up in the
Manhattan
projects of
New York City
. Often times he would stay with his grandparents and was
orphaned
before he even reached grades
K-12
. In elementary school he was constantly involved in violence and starting trouble. He was always stealing things from local convenience stores and he was caught once by one of the clerks. It didn't stop there he was constantly involved in fights during these years, somewhere in the double digits, including fist fights and being pushed into lockers. One of them ended with him being stabbed/cut in the upper left arm by a knife. When he was only 12 years old he was shot in the left elbow, waist, and chest by a high powered gun. He was okay but has a scares where he was hit with the bullets. At 13 he suffered from a gunshot wound to his ankle when a police officer mistook him for someone with a gun. He was also very into graffiti, a lost art form of tagging/defacing walls or buildings with words or phrases drawn with spray paint. He never got into trouble for this and looked at it as expressing himself rather then as an actual crime. Although he did suffer from a poor childhood he always did well in school. Up until 6th grade he got all A's in all of his classes and was excepted into APG, the Academically Gifted Program, for students who got good grades. Around this time he lived with an adoptive parent who would guide him down the right path.
SPORTS: 2010-2012
In an attempt to better himself he developed an interest in sports, particularly football and basketball as a freshman in high school. He was short and scrawny but fast. During that year one of his coaches for the junior varsity football team, 27 year old Gregg Schena, was killed in a car crash involving a drunk driver. He starred on the schools junior varsity team during his sophomore year. He led his team in touchdowns even recording four in one game. His coaches noticed his improvements and moved him up to the varsity team. That year, 2011, he played in three games and scored two touchdowns. He was awarded the teams JV most valuable player, an award that was named after Coach Gregg Schena who had coached the team in the past year. During his sophomore year he also played on the schools junior varsity basketball team but was devastated when one of his friends, 19 year old Ryan Lee, was killed in a drive-by in Manhattan. He was hurt by this but used it as motivation, and looked at it as something to play for. In 2012, as a junior, playing football resulted in a sever concussion and permanent bodily damage. This made it that much harder for him to keep his starting position. Although it was hard for him, in that same year, he lead the varsity basketball team to the Housatonic League Championship. He struggled in his senior year to make any of the teams starting line-ups. These struggles could have resulted from the injury he suffered from playing football as a junior and also because his parents were getting a divorce during that time. He ended up quitting the team that year because the head coach for the team had left.
GUNS AND DRUGS: 2012-2013
During his junior and senior years, he became very involved in guns and drugs. In early 2012 him and his friend where at school when he shot a kid with a BB gun through a school bus window. Neither of them got into trouble luckily, they were never caught. He had also began experimenting with using and selling drugs in order to provide for himself and also for his mom. He started making some money and everything seemed to be going well until 2012 when he was arrested and handcuffed for possession of marijuana. Thankfully he was let off but this experience would stick with him for the rest of his life. He had a car as a teenager, a Volvo, but when he was driving home from prom he crashed it and the car was totaled. For the most part he walked everywhere he needed to go. In his senior year he was arrested for domestic violence. He went to court for the incident and his mom had signed court documents releasing him from her custody. He was eventually released and able to finish his senior year but was only aloud at his mother's house during visiting hours. He often times stayed at friends houses and slept in they're basements because of all the suppressed anger between him and his mom. Towards the end of his senior year in 2013 he was caught with drugs at school but wasn't arrested. He was placed on probation but continued to use the illegal substance because he felt that he was benefitting. Eventually he saw how much he was hurting the people around him and decided to give up on drugs for his health and his families well being.         
MUSIC: 2013-2014
He turned to rapping as a new outlet, listening to beats and writing songs every night. This could have been a possible reason for his drug use, as his mind state was altered it gave him a better place to write and compose songs. He took on the rap name Slim which is his name, Kevin, written in cursive writing. Although most rappers had strictly been pop artists up to this point he took a new approach or style called rap. Rap is the voice of the streets and speaks to all the pain forgone to an uptempo beat usually accompanied by a bass, drums, and horns in the background. Lyrics are mainly sentimental and rhyme creatively in order to convey a message to the listener. He attended
Washington High School
in New York City and graduated in 2013. Only 11.4% of kids attending the school
graduated
in 2013 and 11% of those graduates weren't involved in gang activity. The school is located on the
East Side
and separated by
3rd Street
from where he grew up in on the
West Side
. This is a dividing line between the
hood
which is hard to overcome on the East Side and the
ghetto
on the West Side. While there he joined the music club and performed in the talent show. He was successful in the schools talent show and came in first. But, in 2014 things took a turn for the worse when he found out that his real father died after committing suicide by way of a gunshot. Kevin was forced on to the streets at the age of twenty-one. The
crime rate
in New York City is one of the worst in the world. After being fired from his job at McDonald's and having almost no money he went back to the one thing he knew how to do best. In 2015, he was apart of a robbery at a convenience store on the East Side but was never caught. He shot and injured the clerk. The reasoning behind this sudden outburst was likely because he was living beneath the
poverty line
. He continued to perform in talents shows in order to build an underground fan base.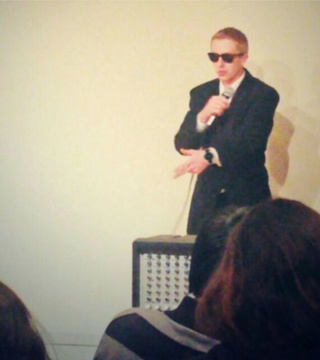 In 2016, while in
Stillwater, New York
on the west side he was shot and hit in his back towards the right shoulder. He went to the hospital but was not seriously injured, he was just lucky to be alive. Stillwater is recreated in the video game
Saints Row 2
released in 2008. It's a city that has became overrun by the government under the power of gangs. His gang is called the 3rd street saints. He returned to the West side in 2017 and while there he was shot in the head. He was rushed to the hospital, they stapled his wound shut. He was let go home the next day and he was okay.
He eventually earned enough money to purchase a two floor loft on the west side. He also earned enough to purchase a revolver.
MUSIC AND CAREER: 1994-present
He started practicing writing songs at the age of 6 but didn't record them until after high school. While in high school he formed a rap group named
"The Dope Boyz"
, or D-Boyz, with two of his friends Josh Fournier "JM" and Jake Green "DJ." They formed the group but didn't ever release any songs together possibly because of infighting amongst the group members. They were also fighting with the group
"G-Unit"
records. His is first release was in 2015 titled
'The Lost Tapes'
including all tracks he wrote and recorded from 2000 until 2015. The tape had little success and was more of a charity case, although good vocally, it was underdeveloped lyrically. In 2016 he released a mixtape titled
'America's Most Wanted'
, another free mixtape. But, this mixtape did earn him a better underground following and was well accepted by his target audience. At the end of 2017 he released a mixtape titled
'Money Over Bulshit'
, or M.O.B. for short, his fourth mixtape release. This mixtape was an attempt to communicate harsh realities while rapping to a fast-paced hip-hop instrumental. He posted the mixtape on the social media site, Youtube (Twitter, Facebook, etc.).